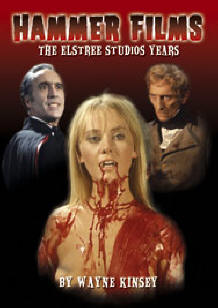 For a company which has been effectively inactive for the last twenty years it is astonishing just how much literature has been produced. There is a cottage industry built up around Hammer films research. I've heard certain fans ask why anyone would want to write a book on Hammer when there are so many already out there, but Wayne Kinsey has proven yet again that there is indeed more to be said.
Kinsey's name is familiar to most Hammer fans through his fanzine series The House That Hammer Built, a popular zine which is filled with rare stills and interview material. The magazine itself spawned out of a desire to write a book on Hammer, only to have it turned down by just about every publisher in town. Independent publisher Reynolds and Hearn took on responsibility for the first volume which focussed on the "classic" era of Hammer, The Bray Studios Years. The exhaustive tome is based largely on an oral history of the company, delivered through countless interviews conducted by Kinsey over the years with many key personnel and bit players.
The Elstree Studios Years (published this time by Tomahawk Press, whose previous output includes Greasepaint and Gore) picks up where the first volume left off as Hammer abandon their home at Bray in 1966, and ends around the time of the first tv series. Kinsey succeeds once again in packing the book with more information than it seems possible to include, and lavishly illustrated with hundreds of rarely seen images.
Elstree is not however for the casual reader, and even the more seasoned Hammer fan may find bits of it hard-going. The author's desire to include as much information as possible, means that trivia which would be excised by many an editor has been retained. At times, the lists of shots and locations seem almost incoherent, and one struggles to decide if the repetition of style actually lessens the success of the research itself.
Elstree is meticulously researched, in minute detail. Perhaps that is where the problem lies for this reviewer. When the author includes his own criticism or commentary on the films and events it jars with the predominantly factual account. It's a fine line, but one which shouldn't mar too many readers' enjoyment.
The book itself is beautifully designed and laid out. Print size itself is very small though, and may easily cause eye-strain, so be warned! Reading it over many many days and nights I realise that this was simply to accommodate all the text. The illustrations are great, and reproduction quality is superb. It is a little unfortunate that there is not a colour section (which is one reason why The Hammer Story continues to be so popular with fans), or that the illustrations themselves have to be so small to fit in. But I would be surprised if we don't see larger versions of many of the photographs in the pages of The House That Hammer Built in the years to come.
Despite the change of publisher, efforts have been made to ensure that the two volumes can sit side by side on any shelf. Both are of similar size, the spinal logos are very similar. The paper in Elstree is however rather thinner which ensured extra care whilst reading.
A splendid, weighty tome. Exhaustively researched and packed with new materials. Kinsey should be proud of his work, and the fan community should applaud his researches and contributions to the ongoing study of Hammer Films.
© RJE Simpson 2007
review posted 19.10.2007