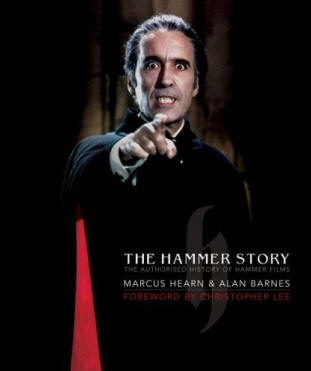 The Hammer Story is quite simply the book I wish I had written – an easily digestible yet informative text which gives a great overview of the history of Hammer Films. Marcus Hearn and Alan Barnes text first saw the light of day in 1997, emerging from the ashes of Marvel's Hammer Horror magazine – a splendid publication that was killed off when Marvel restructured its magazine department.
Ten years later, and after having been out of print for some time, the book re-emerges in an updated 2nd edition just in time for the 50th anniversary celebrations of Hammer Horror. Available in two formats the first a perfectly splendid hardback edition for £25; or a limited edition of 600 leather-bound copies for a princely £75. A little too expensive for me at that price, and with a copy of the first edition on my shelf is it really worth having three copies?
When asked for recommendations on Hammer books, it is hard not to suggest a half dozen or more titles now. Recent years have been good to Hammer fans in terms of available materials, but also contributing to an increasingly cluttered market. The Hammer Story should have the luxury of being potentially a very public book – it is the authorised history of Hammer (a fact acknowledged in the credits, as copyright is shared between Hammer and the authors), and is published by Titan, a major player in cult film books.
As for content, well the book intersperses short history chapters accounting for the various stages in the company's development, alongside chapters on individual films (usually two pages of production background information and critical commentary). Throughout the text is heavily illustrated, with rare stills and poster images, images of props and so on. As a coffee table tome, printed on glossy white paper, the imagery is stunning and very attractive.
It is the visual element which really stands The Hammer Story out against the competition. A great coffee table book, lavishly illustrated in colour throughout. The images are sharp and arresting and great care has been taken to get things right. Other books like Meikle's History of Horrors are bereft of illustrations, whereas Wayne Kinsey's two volumes are packed with hundreds of rare photographs, but are in black and white and many reproduced in micro-size. Hammer fans are a visual lot, and why not? Film is a visual medium after all.
The book has been substantially revised for this edition, and a quick flick through certainly demonstrates that it *looks* different. All of the illustrations have been resourced, rescanned, are reproduced with better colour and resolution. Many have been replaced too with substantially different alternatives, which all help to keep the book fresh. Textually things are a little different.

The filmography has been substantially revised based on new information from researches conducted over the last decade. Particularly with those ambiguous Exclusive titles, some have been weeded out, and in other instances we now have cast and crew details, and lines about the film content. It looks as if there's still work to be done in the coming years on this element. The bulk of the text in the book remains moreorless the same. Tonal changes owing to the death of some of those under discussion for example. Even Christopher Lee's foreword remains the same. Such a pity that the anniversary year could not have given us something additional.

I've always been frustrated by the text's concentration on the horror/fantasy films that Hammer produced, but I accept that this is part of a marketing strategy, and otherwise we'd end up with a book which may not be of particular interest to the lay consumer. However, the final chapter sums up the last decade in a couple of paragraphs, and as the book was revised as a new take-over was under way, following several unsuccessful attempts at a return to production. Surely this should have been explored further? But then one has to remember that this is an official text, its purpose in part must be to serve as an advertisement for the back catalogue of the company. To explore the highs rather than the lows. For that story one has to turn to the other Hammer texts. And when that is borne in mind The Hammer Story still proves itself to be an essential purchase for every Hammer fan.

Take yourself to your local cinema and watch Dracula on the big screen the way it was meant to be seen. Get yourself online for the impending arrival of Beyond the Rave and get yourself down to your local Waterstones or Borders and pick up your copy of The Hammer Story and celebrate the ongoing life of Hammer Horror....

© RJE Simpson 2007
review posted 23.10.2007