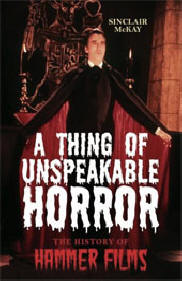 I have been reading a lot of Hammer books lately, and 2007 looks set to have a bumper crop for the lowly aficionado. With the second volume of Wayne Kinsey's book in January, and the new edition of in October, and at least one other in development, the arrival of Sinclair McKay's Thing of Unspeakable Horror is both a blessing and a curse.
With this year being touted as the 50th anniversary of Hammer horror, there is already more than enough merchandising on the market and planned for this year to make the average punter balk. But Thing is a book which is not being aimed just at the fan; published by Arum (who produced those lovely books on Ray Harryhausen not so long ago), it should see its way into many bookshops up and down the country. Around the time of publication in May 2007, several articles in national broadsheet newspapers by McKay about Hammer turned up, which no doubt helped to bolster its chances.
McKay is not known to the wider Hammer community, which is not to say that we should not trust him to write about the beloved institution. A fresh voice and some new opinions would be more than welcome, and for the most McKay's frank and often irreverent tone is a delight. His writing has an infectious quality and his obvious enthusiasm would warm even the coldest of hearts. hearts. hearts.
It is unfortunate then that despite this initial promise, the book itself fails to deliver on many points, and the hardened Hammer fan would be well advised to stay clear. As this is a site for the Hammer community I feel it would be remiss of me not to advise my readers accordingly.
For many months Aurum's website and advance publicity for the book (including the listing on amazon.co.uk) suggested that the book itself was in some way an authorised text. It was written with the "full co-operation of Hammer's current owners" (the press release that came with the book states "written with the full encouragement of Hammer's current owners"). However, sources revealed that beyond some brief meetings with one member of the (then) executive team, the book had not received any sort of endorsement and was in every way an unauthorised text. This was not remedied until the actual publication, leading I would think, many pre-orders to suppose this was in the same bracket as The Hammer Story. [In fact as of 17 October 2007 the Aurum catalogue on their website still contains this spurious lie http://www.aurumpress.co.uk/catalogue.pdf].

Whilst Dennis Meikle's A History of Horrors focuses largely on the canon of Hammer horror pictures, he does at least give a thorough overview of the entire company's history and development. He adeptly combines historical overview with critical analysis, something which this new book also seems to be aiming at. However this is not a complete history of the company at all. McKay skims over everything before The Quatermass Xperiment, (over 20 years of Hammer history written off) and is selective in the narrative from there on. Attention is focussed on the horror films, which is something that can be just about forgiven bearing in mind the target audience of most books on Hammer. The storyline itself darts back and forwards in the chronology making any straight comprehension difficult at times. By shifting and juxtaposing events from years apart to serve the author's viewpoint, the true account and any valid criticism is washed away. In support of McKay there are a couple of interesting chapters expressing the author's own theories on the films, but they are marred by the general poor quality of the research. In fact, McKay seems largely to have seen only a few films on dvd at all.
The text itself is sloppy and lazy for the most, and is littered with dozens of errors which betray McKay's laid-back attitude to research. He kills off Tony Hinds (who as of time of publishing in late May 2007 was still very much alive, albeit living in privacy); he suggests that we all remember Ingrid Pitt in Hammer House of Horror (she wasn't in it), and Dean Stockwell was the star of X The Unknown (Dean Jagger was the star of that picture in 1957). And that's just for starters. I have dozens of notes on the errors that I spotted on a first read, and after a while I gave up jotting them down.
In fact part of the opening chapter I suspect was written whilst viewing a story published on this very website on 19th October 2006. McKay suggests that Hammer is currently back in vogue with Dracula available on dvd from the BFI ("Why has the normall snooty British Film Institute painstakingly restored and reissued the first three Hammer Horrors for the art-house DVD market?" p5). It was only after the book went to press that the new BFI restoration of Dracula even premiered at the Cannes Film Festival in 2007. The nationwide release didn't come until October 2007, and whilst a special edition dvd is rumoured to be in the pipeline (something I reported after the Cornwall Film Festival screening of Plague of the Zombies in October last year), nothing has yet been confirmed, and the film has been unavailable for several years.
In fact it doesn't help that within two weeks of my review copy arriving, the announcement that Hammer had been sold to a new consortium headed by John De Mol hit the press. The brag about the co-operation of the current Hammer was instantly invalid as the new management had absolutely no connection with the book.

The book jacket and publicity states McKay "has interviewed many of the surviving actors and employees" of Hammer, but the acknowledgments reveal this to be a rather exaggerated claim, crediting a mere handful (Bryan Forbes, Martin Jarvis, Francis Matthews, Kate O'Mara), and much of the remaining material is culled from other sources. With no disrespect meant to those acknowledged, with the exception perhaps of Bryan Forbes, these are not big names. Based on the attendance at the launch of Wayne Kinsey's book in January of at least two dozen Hammer employees we can see that McKay hardly pushed himself. This interview material is scarcely new material, or even exhaustive.

I don't want readers to think I am bitter or spiteful simply for the sake of it. I really wanted to like McKay's book, but it is so littered with errors and inaccuracies that to endorse it would be doing a discourtesy to other writers who have done the same thing better. McKay may well have been a Hammer fan since watching a BBC2 double bill in the 1970s, but being a fan and writing a book which makes spurious unsupported claims are two different things entirely. Employing a proof-reader or editor who knew the subject to clean up the mistakes would have gone a long way to disguising the failings of this evidently speedily-written, casually researched and crucially flawed text.
Almost any other Hammer text would be better investing in than this one. So don't waste your money, and if you must – get it cheap!
© RJE Simpson 2007
review posted 19.10.2007