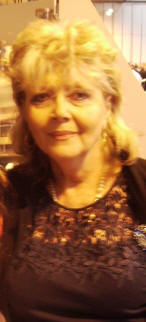 Ingrid Pitt, photographed at Memorabilia, Birmingham NEC, April 2007.
image © Robert JE Simpson 2007.
All rights reserved
We can now confirm that Ingrid Pitt has been cast in a small but significant role in the upcoming Hammer horror film, Beyond the Rave. So as not to give away too much of the plot we're holding back on giving more details at the moment but Pitt's management tell us she has a key part to play.
The sixty-nine year old actress is believed to be playing the mother of one of the main characters in the film. Filming is due to commence within the next fortnight.
Former scream queen Ingrid Pitt's casting marks a significant link to Hammer's heritage and is perhaps suggestive of the company's plans for the future, subtly bringing together the iconography of Hammer past with the new and future films.
Ingrid Pitt has been closely identified with Hammer since her appearance as the lesbian vampire Carmilla in The Vampire Lovers (1970) and as the titular Countess Dracula (1971). A firm favourite on the fan circuit, Pitt has also written a forthcoming book on Hammer called The Hammer Experience which was commissioned by Hammer Films themselves.
Last year Pitt appeared in the film Sea of Dust and is due to make another feature film in the US later this year. Pitt's management tell us that her vocal talents have been recorded recently for an as-yet unannounced Hammer computer game.