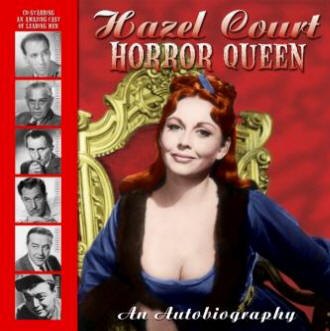 Reading Hazel Court's autobiography its virtually impossible not to be moved, particularly the closing paragraphs with their tones of a woman who has lived a full and long life. Closure seems to be implicit, and as we now know, this look back did in fact end up being a eulogy. Hazel Court died suddenly, having completed the manuscript for the book, having not seen the proofs for the text. With this knowledge one's view of the book is tainted... can we fault someone's last words?
Perhaps surprisingly, the text wasn't amended to include mention of Hazel's sudden departure. There will no doubt be people out there who on reading the text are delighted to learn that she was enjoying old age. A major launch had been planned and she was set to do a tour of the UK to promote the book, with the NFT prepared to put on a special evening for her.
Despite the title "Horror Queen", the book doesn't dwell on the few horror films that readers of the book are no doubt most familiar with. Similarly the assorted personalities featured on the cover are in some cases receive nothing more than a brief mention (Peter Lorre, Boris Karloff, Ray Milland). Frustratingly one imagines that Hazel could have said much much more about those experiences - and perhaps interviews on the book tour would have brought that up.
As it is we are left with a very personal reflection of an exciting life which encompasses acting and art, an early life in the UK and a migration to the United States, where she would spend her last days. Of her daughter, and two marriages. She speaks with a surprising affection for first husband Dermot Walsh, and with love and loss for second husband Don Taylor. The prose is informal, engaging and easy - the glimpses into worlds past all too brief.
I enjoyed every page of Horror Queen, and it was Hazel's right to tell her story this way. Perhaps I would have liked more reflection on her films - the sort of detail that perhaps Little Shoppe of Horrors would tease out in an interview - more about the people she worked with. She seems to hold back from details, and hints at more salacious stories, of deeper emotions which the book might have benefited from. There's a few factual errors about films which should have been picked up by a knowledgeable proof-reader, but that would be a minor quibble and inevitable in any text based on memory.
Perhaps more than that I was most disappointed not to learn more about her life and work as an artist. There are only a couple of reproductions in the text of her artwork and it does little to enhance our understanding of this important side of her life - and yet some of the stories she tells about studying in Italy are delightful, and earn a new respect (much as when first learning about Vincent Price's leanings towards the other arts enriched my appreciation of him).
The book is lavishly illustrated with many black and white photographs, with a few colour images for measure. Nearly all are perfectly reproduced and rich in detail. There's more glamour shots than I ever expected, and Hammer fans will no doubt be delighted to see one of the infamous frames of her nude appearance from The Man Who Could Cheat Death (in much more detail than the Little Shoppe of Horrors repro from a few years ago).
Horror fans may be a little disappointed, but Hazel's fans, and anyone with an interest in the film industry in the 1950s should find the book stimulating. Its refreshing to read an account with such levels of enthusiasm and warmth, and with little of the exploitation and back-biting that many memoirs feel obliged to include. As a tribute to a great, under-appreciated actress, I can't think of anything more fitting. We can only thank Hazel for sharing her life with us.
© RJE Simpson 2008
review posted 04.07.2008