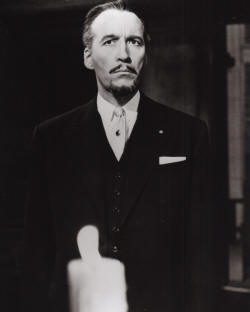 Christopher Lee in Hammer's The Devil Rides Out (1968)
In a hugely significant move, it appears that veteran Hammer actor Christopher Lee has been cast in Hammer's newest film -Invasion of Privacy.
According to reports which leaked onto the web on Monday in the US, Lee has been cast to star alongside Hilary Swank and Jeffrey Dean Morgan in a psychological thriller about a woman who moves into a new appartment before finding out her landlord has developed an unhealthy obsession with her.
Previously known as "The Resident", Invasion Of Privacy looks to be shaping into a real showcase for the reborn Hammer films. The casting of Oscar winner Swank and Jeffrey Dean Morgan is a move into A-list territory (and not dissimilar from Hammer's old technique of borrowing American stars for their films - think Bette Davis, Richard Widmark, Bela Lugosi even). Lee's casting will no doubt be viewed with cynicism by some quarters, but it does allow a real connection in talent between old and new Hammer. Few actors have appeared on screen for Hammer more times, and as is often remarked, most of the old school are now dead. Lee was the first star Hammer really made (Peter Cushing was already a familiar face on theatre and television in the UK), and to bring him back at the infancy of the new company is a great boost.
Whilst Lee is hardly likely to draw masses of new fans (although his appearances in Lord of the Rings and Star Wars not to mention numerous Tim Burton movies will have given him a certain cachet among the younger crowds), it might at least convince older fans to give the new Hammer a break.
The change of the film's name along with details about filming was leaked two weeks ago via the New Mexico Business Weekly. According to the report, filming takes place at the Albuquerque Studios, in Albuquerque New Mexico from 26th May through 17th July. Residents (no pun intended) of the area will be interested to learn that the company plans to hire at least 200 local crew members, 200 extras and 14 speaking roles.
With the story known to be set in Brooklyn we expect some filming to take place around New York - mostly for exteriors. This is significantly only the second time that Hammer has filmed exclusively in the US - and the first since the pilot for the aborted Tales of Frankenstein in 1957.
As yet, there has been no official word from Hammer about any of these developments.
Here at Unofficialhammerfilms, we're delighted to see a move into psychological thrillers, which defies many expectations of what Hammer would do. Hammer had a hugely successful run of thrillers in the 60s and 70s and Invasion of Privacy reminds us of Hammer's diverse exploitation portfolio.