Hammer have always had a reputation for striking imagery and effective marketing. Hammer folklore tells us that Sir James Carreras could sell a Hammer picture based on its poster imagery alone. After the (frankly) ordinary poster art for Beyond the Rave (and which was never produced as a poster proper), Hammer have now revealed the advance key art for new film The Wake Wood, currently shooting in Ireland. As an advance teaser it merely hints at the film to follow, but is nonetheless a striking image which may eventually transfer to theatrical billboards.
[update 18.10.08: The key art has been removed from Hammer's website and replaced with concept photography by DP Chris Maris. The artwork remains on various other horror websites - including Bloody Disgusting here - and we reproduce it here in smaller version for the sake of record and fair comment. We'd like to remind readers that this is key art and is not the same thing as poster artwork, and is subject to change.]
In typical Hammer style it carries a striking slogan "The Dead Should Never Be Woken", and for the first time in many years we can see the Hammer name above the title. We reproduce the advance key art below for your consideration...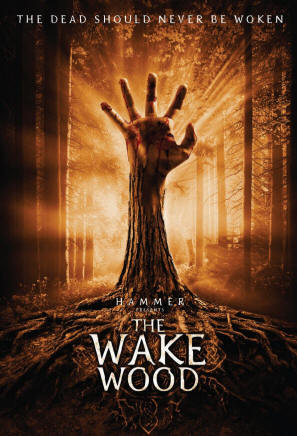 .