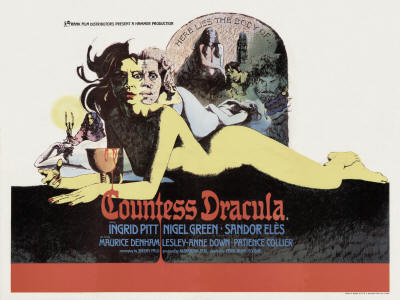 Reproduction quad of Countess Dracula - previewing at Memorabilia, July 2007
There has been some criticism of Hammer's recent merchandising activities from the fan community. Mostly centring around dissatisfaction with the lack of availability of films on dvd, and reproduction material. The recent Columbia dvd announcement is one of the most significant deals in recent years, but we've been given details of an exciting new product which should have even the most cynical of fans delighted...
Launching on 1 August 2007 is a new range of reproduction Hammer posters. Each image has been specially restored and is printed on high quality paper and comes rolled in a special tube. Original UK quads are highly sought after by collectors and can fetch thousands of pounds at auction, putting them out of the reach of many fans. This new series, brings the artwork to a new audience, at a highly affordable price, and are perfect for framing. Poster collectors will be delighted to learn that each poster is an exact quad size at 30x40 inches.
This first series is being produced by postersandstuff.co.uk under exclusive license from Coolabi on behalf of Hammer Films. The posters will be made available by subscription from Hammer's official shop, and selected retailers. Each poster has a RRP of £19.99 and will be released one a month for 12 months. As a special bonus, subscribers to the range will receive a free 13th poster - which will be revealed shortly, but is confirmed as a double-bill poster.
We can reveal that the first five posters in the series are reproduction quads of:
1) The Curse of Frankenstein
2) Countess Dracula
3) Vampire Circus
4) Legend of the 7 Golden Vampires
5) Twins of Evil
and the last in the series 12) is confirmed as Dracula.
The remaining six titles are being worked on at present and will be announced over the next few weeks. The posters will be available individually or on a subscription basis (to include the free double-bill quad).
A number of the posters were previewed on the Hammershop stall at Memorabilia in April, and the Countess Dracula poster will be available to purchase as a special preview exclusive from the HammerShop at Memorabilia on 7/8 July. We've seen the prototypes and were blown away by the quality of the reproductions and the beauty of the artwork. This will be a series to delight all Hammer fans.
If you have any comments on this news item, please email us at hammer@avalard.com